Offering Free Weed Delivery To Kelowna And The Big White Community
7 Days a week
9:00 am – 10:00 pm Kelowna Area, 4:00 pm – 5:00 pm Big White Area
Start Shopping
Delivery FAQs
Don't feel like leaving your house or driving down the mountain? Skip the trip to the cannabis store, as Kēlo now offers free weed delivery to residents in Kelowna and the Big White area. We carry high-quality, safe, legal, and licensed cannabis products with a large variety of flower, pre-rolls, vapes, edibles, beverages, and more. Order online now and get your products delivered to you.

Placing Your Order
All customers must be 19 years of age or older.
We only accept payments online. We do not take cash, and all transactions are processed through our secure site.
If you need an order changed, please do so online or by calling our store in advance.
Customers must select "delivery" instead of "pickup" as their shipping option during checkout.
Kelowna Area: We're committed to delivering your orders as soon as they're placed.
Big White Area: We're committed to delivering your orders between 4:00 and 5:00 pm. Orders must be placed before 2:00 pm to show up the same day.

Accepting the Delivery
Orders for Kelowna are delivered seven days a week from 9:00 am to 10:00 pm. Deliveries will be sent out to arrive within the period requested. Please ask if you prefer ASAP ordering in the "Special Instructions." If order volumes are low and we can accommodate the request, we will text you back to confirm.
Orders to the Big White area must be received on clear roadways or parking lots where the delivery vehicle will not get stuck. If your location is on unplowed roads, please specify where to meet in the "Special Instructions."
The car can either be marked with our logo or unmarked. Please let us know if you prefer unmarked vehicles in the "Special Instructions" when checking out.
Kēlo staff will always be the ones who are delivering your orders as we do not use a 3rd party service.
Parcels must be delivered to the person who submitted the order. You must identify yourself with two pieces of ID, the card used to pay, and sign off.
Kelowna Weed Delivery Zones
Kelo now offers fast, free weed delivery in Kelowna to the following 2 zones. Look below the map for more information.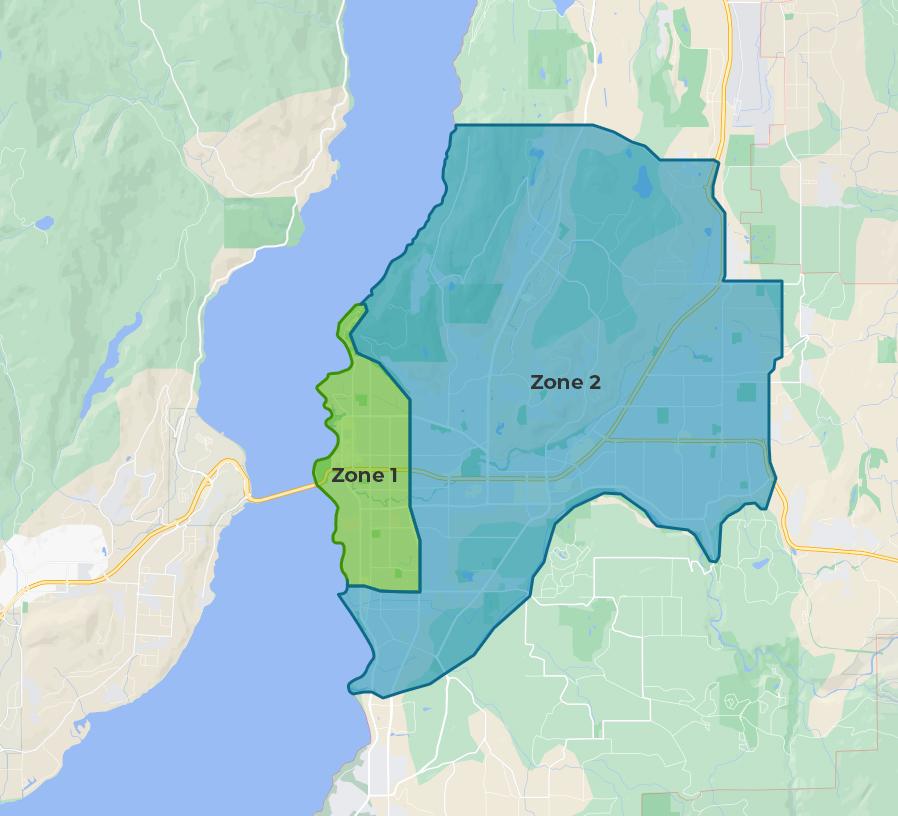 Zone 1 includes Downtown Kelowna and into Pandosy until reaching KLO Road
and stretches over to Gordon Drive and includes the North End as well.
Zone 2 extends into the Mission and follows Mission Creek along into Rutland, and covers UBCO and Glenmore.
With apologies to our Upper Mission, West Kelowna, East Kelowna, Ellison and Black Mountain customers – we are unable to offer delivery to your neighborhoods at this time.